My pony mare was hiding her silver, Sheena is a few spot appaloosa. I did suspect her a little when she was younger but had no information on either her sire or dam. She had 3 foals before this years filly and none of them (well, possibly last years colt) made me interested enough to have her tested...sure enough she is Zn. Her other tests were done too and she's EE Aa (could be At) and Zn (oh and LPLP).
First photo is Sheena, in foal with KitKat this year
And here is KitKat, her 2010 foal. KitKat is a brown silver snowcap appaloosa pony filly. She is EE (not tested but both parents are EE) Agouti hasn't been tested yet but her sire is Ata and I strongly suspect Sheena is also so KitKat could be AtAt. The appaloosa gene can also cause the mane and tail to be white so it was always something I wondered about but never enough to test her.
Here is KitKat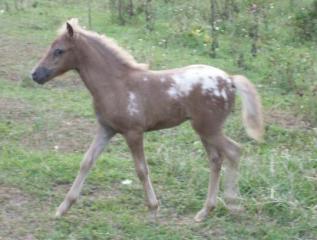 And here is last years colt, classic champagne (not positive, could also be brown) few spot appaloosa. His mane and tail were very dark but quickly turned white but then his whole body went from color on his legs, chest, ears, mane and tail with 2 small body spots to him being totally white now with faint varnish markings on his knees and front of legs and a little on his chest. Otherwise, totally white. He may need to be tested, here are a couple pics of Deuce, first at a day old then one as a yearling. Anyone think he might be silver too?