Our Perlino Silver mare (EE Aa NZ) mare foaled to day. She has given us one Buckskin Silver already, last year she gave us a Homozygous Buckskin (EE AA) and this year..I am sure is a Silver, again. Of course a colt. Was hoping for a filly to keep from her due to her age. : )
However, my hubby says we can NOT sell this colt ( he KNOWS my rules of keeping fillies only!LOL) and his reason is: we don`t know if Happy_lips will ever have another foal....
We are thinking of breeding her on her foal heat either back to the same sire (EE Aa..possible Brown At but not tested) OR our one Perlino stallion (Ee Aa).
FYI she is 1/2 QH, 1/2 Welsh and although pass owners tried breeding her to QH and TB stallions she never got in foal as "she`s a hard mare to breed"..we have never had any problems breeding her. : ) Heck we didn`t buy her to breed her but so she`d get vetting, farrier and just plan good care (lawn mower job)..till of course she crawled under the boards and cornered the stud to have her first foal for us January 28 2007

Hard to breed? She`s a hussy!LOL
The other 2 foals (colts) we had from her had barring but either Blueish ( the silver one) or Black..the Homozygous one. THIS colt, interestingly has Taffy colored barring with a mostly White mane and tail ( we know he is homozygous for the Black gene so is NOT a Palomino).
He is 1/2 Andalusian.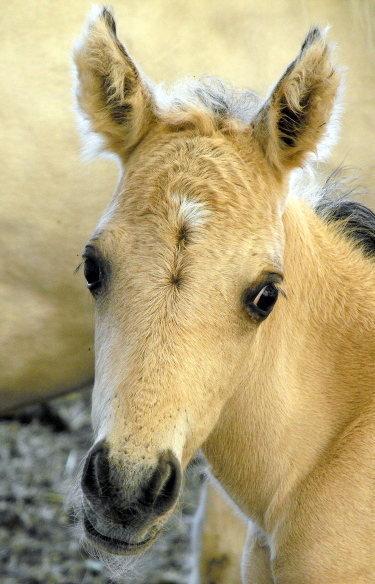 He also has the star burting around the eyes.